Inviting 140 VIP Guests, Friends of Soklich & Co. and staff for a paddle on the Decoy Paddle Steamer was our 2018 Summer Highlight! Chris and Lexie Soklich decided to celebrate 4 Years at the South Perth Soklich & Co. store, they would treat guests and staff to a gorgeous summer paddle on our magnificent Swan River.
The weather was still, balmy and warm, and everyone that came along had a fabulous time mingling and enjoying the afternoon. Live music played by James Wilson as the Decoy paddled along the Swan River, while extra entertainment was by the Roving Magician Jono Strange. Delicious food Canapes by Citrons Catering, a stunning menu picked by Lexie Soklich. An Open bar, with drinks a plenty. Everyone really did have a wonderful time, and that's what we wanted. The backdrop was the sun setting and reflecting upon the Perth City skyline.
Part of the celebrations and excitement, was to give away 3 prizes to lucky customers who had an entry into the draw to win:
A 10-day New Zealand Royal Caribbean Cruise: All expenses paid, Return Flights and 10 nights on board the Royal Caribbean Balcony Suite to New Zealand.
South Sea Pearl Pendant, set in 18ct Yellow Gold with a diamond Valued at $1500.00 and;
Vintage Bike, with all the beach going goodies.
Invited Guests, that had purchased over $1000, on Diamond Engagement Rings, Wedding Rings, Argyle Pink Diamonds, Yellow Diamonds, Bespoke Custom Designed Jewellery all went into the draw to win! Spot Prizes were given out by randomly placed butterflies with a marking. Vouchers for Cleaning services, Fabulous bright yellow Soklich & Co. Umbrellas, Chandon Champagne were part of the random prizes, that were just our way giving and adding to the afternoon.
Chris and Lexie work very hard developing a family friendly and community minded, welcoming Jewellery Boutique on Angelo Street, South Perth. With a strong focus on supporting, local community, and business, choosing the Decoy Paddle Steamer was an easy choice. Our clients are very special to us, we love to see them in the store for a chat, to see how they are doing, and to help with all their jewellery and design requirements. Catching up on a Sunday afternoon on the Swan River was a perfect way to further establish lifelong friendships and business relationships.
Mingling, and talking to our clients, making sure everyone was having a great time, that's what is important to us.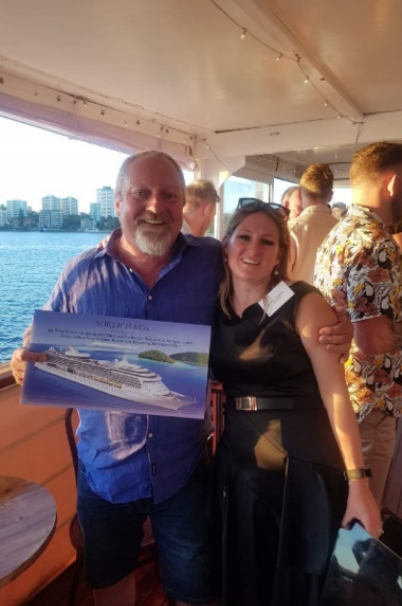 The Decoy River cruise was a highlight in Chris and Lexie Soklichs business and event calender. We are currently securing the next event, for November 2020! Look out for your chance to come aboard!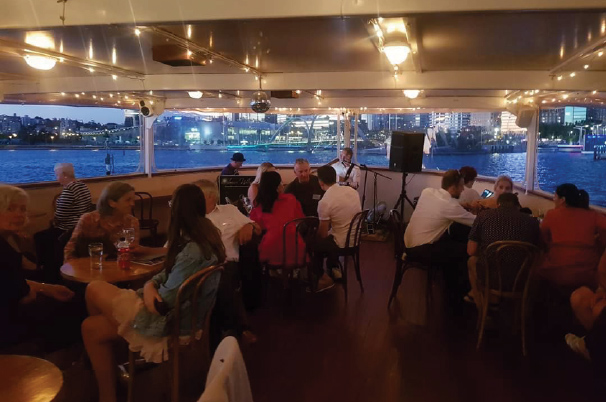 A speech was made by Annette Latto Chair of the Esther Foundation, thanking and acknowledging the commitment Chris and Lexie have made in supporting the Esther Foundation. A charitable, non-profit organisation, the Esther Foundation helps young women in re-building their lives. A Sterling Silver Esther Angel Heart Pendant was given away to one lucky door prize. Lexie developed and designed a range of Angel Heart Jewellery with all profits going to the Esther Foundation.